Craft a creative response to the new photography of climate change
Create a work of fiction or poetry based on a striking photography that documents our changing climate and your writing could feature in The Lit Issue 3
Hi authors and poets!
We've teamed up with Climate Visuals to create a flash fiction and poetry competition for Issue 3 of The Lit.
This issue – out in October – is exploring climate change, literature and publishing, from climate consciousness in storytelling through to questions of genre and the commercialisation of climate change writing.
Climate Visuals is the world's only evidence-backed project for climate change photography. Coupling international social research and industry insights, Climate Visuals aims to inspire visual communicators across the world, to move away from clichéd images of polar bears, melting ice caps and factories, to catalyse a new – more compelling and diverse – visual language for climate change.
The team at Climate Visuals works with a range of photographers to document the changes, impacts and responses to climate change around the world. Together, we have selected four images from four different photographers, exploring a variety of regions and communities around the world, and their relationship with the changing climate.
We're looking for creative, inspiring and thought-provoking responses to these photographs to feature in Issue 3. These responses can be micro works of fiction or poems. Here are the details:
Choose one image to respond to
Choose your genre: poems should be no more than 40 lines; fiction should be no more than 750 words
Submit your work of flash fiction or poetry to

[email protected]

by Monday 7 September
We will judge each response, and selected entries will be published in The Lit Issue 3. A winning poem and a winning work of fiction will also be selected, with the winning poet and winning author receiving £50 prize money each.
Solmaz Daryani, from The Eyes of Earth (The Death of Lake Urmia), Iran
Inside the dilapidated ship Noah's Ark
Photo by Solmaz Daryani
Lake Urmia – located in the northwest of Iran – was once the biggest salt lake in the Middle East.
Lake Urmia was once home to many birds, ducks, pelicans and flamingoes, as well as a popular destination for visitors.
During the past 20 years, climatic changes, intensive agriculture and dam construction have combined to transform the lake; approximately 80% of the lake has disappeared.
The Noah's Ark was once the biggest pleasure boat on the lake.
https://www.instagram.com/solmazdaryani/?hl=en
Greg Kahn, from 3 Millimeters, Maryland, USA
A vacant home in Hoopersville, MD
Photo by Greg Kahn, Getty Images Climate Visuals Grant recipient
The Eastern Shore of Maryland is a short drive from Washington D.C. Its position means it was one of the first landed shores for colonial settlers.
Sea levels here are rising twice as fast as the global average.
Gradient sea walls, vegetation re-nourishment and education are among the efforts seeking to preserve natural habitat and homes in some locations along the coast; in other places along Chesapeake Bay the rising sea levels are irreversible.
Property values have fallen sharply in the most vulnerable areas, some have retreated from homes as the marsh land expands.
https://www.instagram.com/gregkahn/
Aji Styawan, from Drowning Land, Demak Regency, Indonesia
Villagers pray at a flooded public cemetery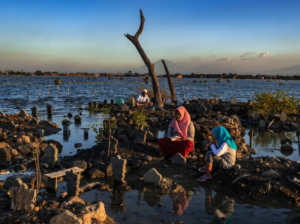 Photo by Aji Styawan, Getty Images Climate Visuals Grant recipient
The majority of the small islands among the 17,000 which make up the archipelago nation of Indonesia are only one meter above sea level.
In Demak Regency, Indonesia, local residents will spend around 5 to 10 million rupiahs a year to elevate their homes.
The ocean now engulfs thousands of hectares of land in some villages; farmers have become fishermen, as villagers have adapted to survive in different ways.
In a flooded public cemetery, the residents buried here are submerged by the rising sea that now surrounds their former homes.
https://www.instagram.com/ajistyawan/
Sophie Gerrard, The Flows, Caithness and Sutherland, Scotland
A conservation volunteer carries canes, used to mark out dams
Photo by Sophie Gerrard
Flow Country is a peatland in the far north of mainland Scotland. Peatlands, a rare and unique habitat across the globe, hold almost 30 per cent of all terrestrial carbon.
Scotland's peatland is widely considered to be the largest expanse of blanket peat bog in the world and the principal terrestrial carbon store in the UK.
In the Flow Country, incentives to make productive use of the peatland led to extensive forestry which dried and degraded the ecosystem.
Canes are used to create dams that maintain water levels in the Flow Country, helping restore the natural habitat.
https://www.instagram.com/sophiegerrard/
Take a look at Issue 1 and Issue 2 to find out more about The Lit and the type of topics and angles that have been explored in the past.
Please feel free to circulate this call-out to your writer friends who might be interested in responding to the Climate Visuals images.
We look forward to reading your submissions.
Ben Smith, Lecturer in English and Creative Writing at University of Plymouth, and David Sergeant, Associate Professor in English at University of Plymouth
Guest Editors, The Lit Issue 3